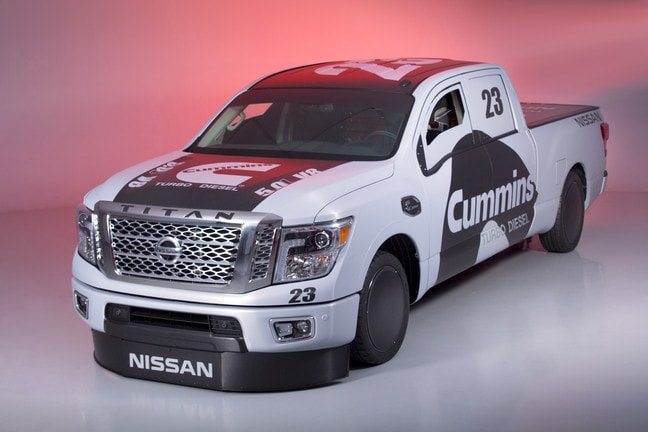 Nissan brought out a trio of 2016 Nissan TITAN XD concept trucks to SEMA 2015 in Las Vegas, with two very uniquely-built TITAN XD pickups displayed in the Nissan booth. The 2016 Nissan TITAN XD is a masterpiece built with a Cummins 5.0L V8 Turbo Diesel engine that's set to launch very soon. With this truck, Nissan aims squarely at the half-ton pickup market confident that the 2016 Nissan TTAN XD is a serious contender. Completely redesigned, the 2016 Nissan TITAN is bigger and better than ever before. The custom TITAN XD trucks showcased at SEMA show off just what the next-generation Nissan pickup is capable of.
2016 Nissan TITAN XD "Triple Nickel"
Sitting on a trailer hitched to a black 2016 Nissan TITAN XD in the Nissan booth at SEMA 2015 was a pickup truck like you've never seen before, a lowered, sleek, and race-ready 2016 Nissan TITAN XD. Named the "Truck of Texas," the 2016 Nissan TITAN XD and its Cummins® turbo diesel V8 engine is an unconventional, yet ideal land speed record racer. The 5.0L V8 engine makes a whopping 555 lb-ft of torque and 310 horsepower, which is a near-perfect combination for setting a land speed record. Of course, not just any 2016 TITAN XD can accomplish this feat. "Project Triple Nickel" is specially modified for optimum aerodynamics and safety, especially for hitting speeds well over 100 miles an hour on a closed course.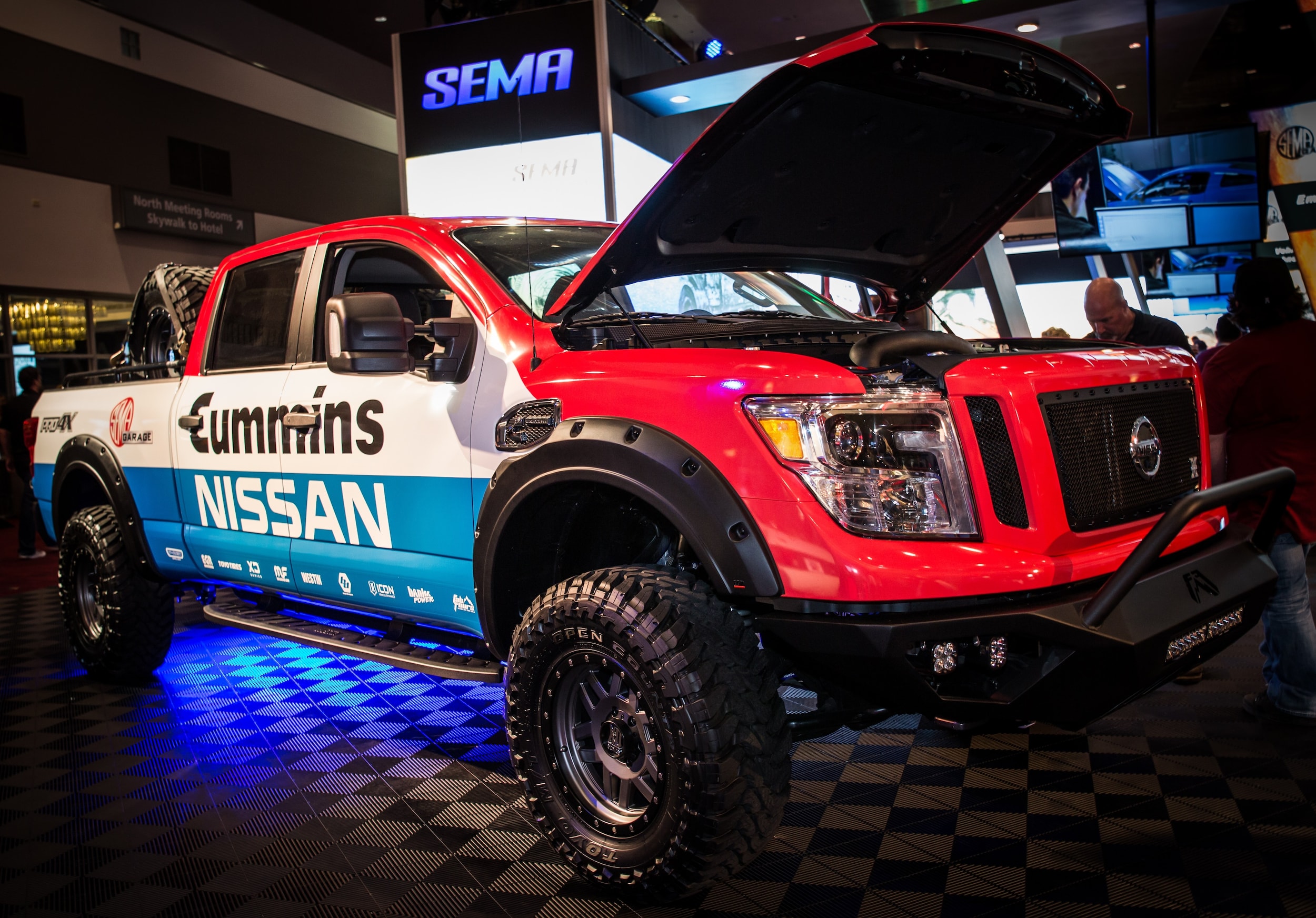 "Measured for Success" 2016 Nissan TITAN XD
On the other spectrum of motorsports is the "Measured for Success" 2016 Nissan TITAN XD that was custom designed and built by SEMA members at the SEMA Garage. A few months back, Nissan presented a 2016 Nissan TITAN PRO-4X to a group of individuals for a special measuring session of the new truck, and with the measurements in hand, these aftermarket parts manufacturers worked together to create this off-road ready 2016 Nissan TITAN XD, which features rugged off-road bumpers, wheels and tires, side rails, and fenders.
The all-new 2016 Nissan TITAN XD will be available soon, so keep an eye out. For more information, and to order your very own 2016 Nissan TITAN XD,
visit us
at
Yark Nissan
in Toledo, OH today! Need a reliable car, truck, or SUV sooner? Then, check out our entire
new vehicle inventory
, and
contact us
to schedule a test drive now!